America is offering quite the introduction in to the music industry for Canadian recording artist Aubrey "Drake" Graham. The singer/actor already experienced first hand the influence of an A-list affiliation – regardless of the endorsement's capacity.
Drake performed in support of Lil Wayne earlier in the year, and is set to trek out with Weezy again on this summer's "America's Most Wanted Music Festival." The tour kicks off in Scranton on July 27 – so Drake called in to The Ralphie Radio Show, promoting the concert while speaking on a wide-array of topics, including his ties to the "Umbrella" singer.
"The most important thing in that situation is that, she's actually a dope person," said Drake of RiRi. "Whatever it did for me, I guess was just an additional blessing on top of the fact that she's actually a great individual."
Rumors have swirled about a romance between the two for well over a month. Paparazzi have caught both Drake and Rihanna out on the town, even kissing at times. Certainly it thrust the Toronto-born artist in to American pop culture. Now Drake can't even hit an airport without being recognized.
"Some guy that was like working at Customs was like, 'Yo, I know you, you're Rihanna's boyfriend.' Which I'm not by the way, for the record," Drake clarified.
Drake gave honest, almost inapprehensive answers when it came to his ties to the Bajan beauty – until I asked if he still keeps in touch with her.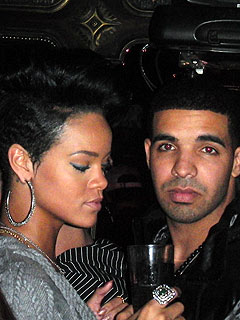 Rihanna & Drake (CelebrityRadar)
Part 1: Toronto, Lil Wayne, Gaining Cred in the States

Part 2: Soulja Boy Tell 'Em, Rihanna

Info about the show here.
"(A few seconds of silence) Yeah, I see her from time to time," Drake answered, his tone clearly down a notch.
But Drake didn't hesitate to offer up props to his tour mates – a bill that generated a solid amount of buzz here in Northeastern PA with the likes of Wayne, Young Jeezy, and Jeremih. Specifically, Drake big-upped Soulja Boy Tell 'Em, anointing the rapper, "the smartest artist of our generation, period."
"Whether it's him, whether it's his team around him, whoever has the thoughts to do the things he does, is genius."
The two hip-hop artists met recently for the first time while playing the new Ultimate Fighting Championship game on XBOX 360. Drake took a light-hearted jab at the "Swag On" rapper, insisting that Soulja Boy, "can't see" him when it comes to that game.
Hopefully Drake knows what he just got himself in to with that comment. After all, he'll see a lot of Soulja this summer: the two will perform 21 dates throughout the U.S. and Canada.