Of course, Jordin Sparks never thought that she would sample the 1983 hit "Let The Music Play" by Shannon for a track of her own. Before using the song, Sparks hadn't even heard of it.
"I thought it was going to be really cool, just a different kind of experiment for me because I've never done like, a dance track before," said Sparks, who called in to The Ralphie Radio Show from Los Angeles. "I played it for my mom and she was like, 'Oh my god, I love this song!' and I was like, 'What are you talking about?' And she was like, 'This is 'Let The Music Play' by Shannon!' and I was just like, 'Oh my goodness.'"
Sparks' mom gave birth to Jordin 6 years after Shannon's song burst on to the music scene. "S.O.S. (Let The Music Play)" is now Jordin's second single from her sophomore LP, Battlefield. It's the second album released since Sparks won American Idol Season 6 – at age 17. She is the youngest winner of the reality show in its seven season history. Now, at age 19, she is not only an Idol champ, but an American Music Awards winner, a Grammy nominee, and an opener for such acts as Alicia Keys, the Jonas Brothers, and Britney Spears. It's quite the diverse roster of acts, and Sparks noted that there were some differences between touring with the Jo-Bros and Britney.
—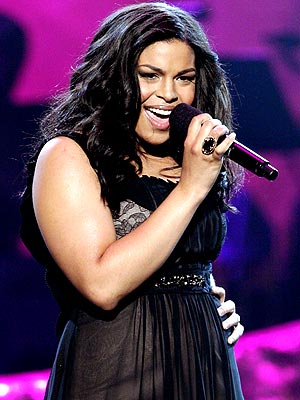 Part 1: World Series, Touring With Britney, The Jonas Brothers

Part 2: Self-Image, "SOS (Let The Music Play)"

—
"On the Jonas crew, we were all around the same age," said Sparks. "So we all got along, just hanging out, doing different things like that. With Britney, she's trying to get back on track, and the people around her are definitely taking care of her. I did get to see her, but she's Britney Spears. She's busy doing her V.I.P. meet-and-greets and adding new songs and choreography and stuff, but it was amazing to be able to see her back on the stage."
Certainly Sparks learned, both what to do and what not to do, from watching Spears so closely. Both entered mainstream as teenagers (Spears released "…Baby One More Time" when she was almost 16). Both now must stay conscience of the tabloids, blogs, and paparazzi. Spears and Sparks have even both posed for their own "Got Milk?" campaigns. But any type of downward spiral from Sparks seems highly unlikely, judging by a refreshingly honest answer she gave to a listener-generated question on The RRS about her look.
"The Hollywood obsession with being skinny and everything, it's so crazy," Sparks said. "For me, I'm just all about staying healthy. I mean, yeah I'll work out and, yeah I'll eat healthy. But it's not like, to diet or to lose weight. Yunno, it's to stay healthy and not get sick, like I did so many times last year."
Jordin even went as far as to say that some of her detractors refer to her as "fat," but does not waver in her stance on her image – citing her taller, curvier frame as the reason why she may not look the same as other artists or actresses. But clearly it isn't just Sparks's figure that sets her apart from others, but rather her talent, confidence, and perspective on young women and their self-image.