Archives For relationships
"Disco Fried" co-author Meli Dez called in to chat about a new study out regarding a rising trend: women cheating on men.

Dr. Paul, author of "You Can't Afford to Break Up: How an Empty Wallet and a Dirty Mind Can Save Your Relationship", shared his thoughts on this article during The RRS.

More on Dr. Paul here.
Read the article here.

04.20.09 : Plain White T's – 1,2,3,4 (I Love You)
Ralphie joins Tom and The Plain White T's on the road!

Tom chats about being sick on the road, playing Jimmy Fallon, and more!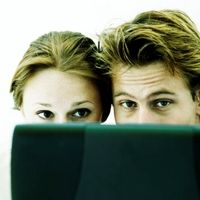 The 7 signs you might are here.
TMZ's Leslie Harris gives Ralphie details on the types of charges that might be brought against Chris Brown – while also shedding light on an abusive past between the two.


Catch Leslie on TMZ TV – Weekdays at 6 on Channel 38 – The CW.

The following appears in the latest edition of The Weekender.
—


Pop went Chris Brown's bubble this week, in oh-so-many aspects.
In the confines of a weekend, the R&B singer lost an endorsement deal, a Grammy Awards performance, a girlfriend, and a squeaky-clean image – all while gaining a criminal record.
The downfall began on Sunday morning, around 12:30. According to witnesses, Brown allegedly engaged in a physical altercation with another female. A number of sources identified the woman as 20 year-old Rihanna.
After one onlooker heard screaming, she called 911. By the time police arrived, Brown left the scene of the crime – but turned himself in to custody later that evening. The Los Angeles Police Department booked Brown on suspicion of making felony criminal threats. Authorities released the singer after he posted the $50,000 bail.
A court date is set for March. Wrigley Jr. Company is not waiting until then to take action. The candy company suspended its marketing campaign which promotes Doublemint gum with Brown and his song, "Forever". In a statement released Monday, Wrigley's acknowledges due process yet takes the allegations seriously.
Coincidentally, Brown's "Got Milk?" campaign was previously set to cease this week. That contract will not be renewed. Furthermore, the crooner will not appear at next weekend's NBA All-Star Game in Phoenix.
As the fallout of Brown's fate unfolds, more details emerge about the victim, allegedly Rihanna. According to TMZ, law officials call the songstress's injuries "horrific." The website reported a litany of damage done by the beating – from face contusions to busted lips and a bloody nose.
Both singers cancelled their performances for Sunday's Grammy Awards. Neither won an award.
TMZ's Leslie Harris informed me that there's a history of domestic violence in Brown's family. In an interview on The Tyra Banks Show a few years ago, Brown recounted some of those childhood memories.
"I treat women differently, because you know, I don't want to put a women through the same thing that person put my mom through," said Brown when recalling memories of watching the abuse as young as age 7.
Rumors began to swirl earlier this month that the couple, who had been dating for at least a year, was on the rocks. Other artists even talked about the possible break-up. Grammy nominated Colby O'Donis went as far to dedicate a song off of his LP, "Let You Go", to the duo.
"I actually just found out that they broke up," O'Donis told me exclusively on 97 BHT the Thursday before The Grammy's. "I'm sure they're going to dedicate that song to each other."
O'Donis nabbed his first Grammy nod for his contribution to Lady GaGa's "Just Dance." He and Rihanna share a mutual friend in singer/producer Akon.
As of press time, neither Brown's nor Rihanna's camp issued a statement regarding the abuse reports.
—
Listen to Ralphie Aversa weekdays from 5-10p on 97 BHT.
FF to 4:10 in
this video
. Interesting interview and comments given the recent events…
TMZ's Leslie Harris phoned in the latest on the Rihanna/Chris Brown story to The Ralphie Radio Show.

Catch Leslie on TMZ TV – Weekdays at 6 on Channel 38 – The CW.

Sunday night should have been a magical evening for Chris Brown and Rihanna, with both scheduled to perform at The Grammy Awards in Los Angeles. However the morning hours wiped away any chance of that, with an alleged domestic violence alteraction that's left the R&B singer with a $50,000 bail and many people asking lots of questions.
Few answers are known, but here's are the facts: The Los Angeles Police Department booked Brown on Sunday for suspicion of making felony criminal threats. The crooner posted the $50 K bail and left authorities before 9 p.m.
The Los Angeles Times reports
that sources close to the investigation identify the female in the incident as Robin "Rihanna" Fenty. Standard procedure for the department involves not release the alledged victim's identity. 
A victim tipped off police to the incident around 12:30 PST – calling 911 to inform authorities of an altercation that involved a visably-injured female. Brown left the scene before police arrived, however turned himself in later. The victim identified Brown as the attacker.
People reports
that she said the following to concert-goers in L.A.: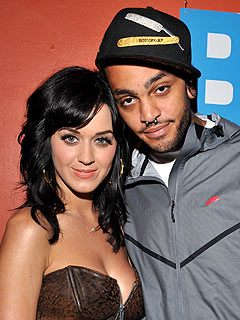 "Girls, if you have ever dated a boy – specifically the lead singer from
Gym Class Heroes
– don't do it! Boys should have a heart. You know what I mean girls? Boys just want the milk, but they don't want to buy the cow."
Obviously she's just a tad bitter. Pretty tacky that Katy is airing out her grievances on a concert stage, but whatev.